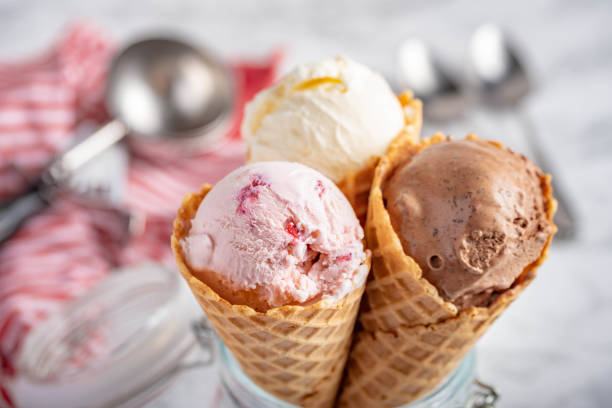 When the sun is high and the temperatures start to climb, there's no better way to beat the heat than with a scoop of creamy, dreamy ice cream. If you're an ice cream enthusiast, you are in for a treat as Greenville boasts a variety of delightful ice cream shops that cater to every palate. From classic flavors to innovative creations, let's take a tour of the best ice cream shops that Greenville has to offer.
Creme Shack
Location: 123 East McBee Avenue, Greenville, SC
Creme Shack, nestled in the heart of Greenville, redefines the ice cream experience with its innovative and artistic approach. With a focus on both flavor and presentation, Creme Shack crafts each scoop like a work of art. From their signature rolled ice cream creations that are as mesmerizing to watch being made as they are delightful to savor, to their indulgent sundaes adorned with an array of mouthwatering toppings, Creme Shack takes ice cream to new heights.
Pink Mama's Ice Cream
Location: 456 Oak Street, Greenville, SC
Pink Mama's Ice Cream, nestled in Travelers Rest, is a whimsical haven for ice cream enthusiasts. Stepping into Pink Mama's is like entering a pastel wonderland where every scoop is a piece of edible art. From the vibrant hues to the playful decor, the atmosphere is as delightful as the treats they serve. With an array of creative flavors that change with the seasons, Pink Mama's delights in surprising taste buds with unexpected combinations. My personal favorite is the 'Pink Motherload', a neon pink slightly almond flavored ice cream with bits of oreo and cookie dough. No matter what flavor you choose, you'll never miss!
Crazy Mason's
Location: 789 Elmwood Avenue, Greenville, SC
Nestled in the heart of Greenville, Crazy Mason's is a delightful ice cream parlor that brings a touch of nostalgia and a whole lot of creativity to the table. With a nod to the past and a flair for the innovative, Crazy Mason's takes ice cream to a whole new level. Their signature offering, ice cream served in charming mason jars, is a visual treat that mirrors the care and attention put into each delicious flavor. From the classic favorites to their rotating selection of unique creations, Crazy Mason's caters to every palate.
Spill the Beans
Location: 531 S Main St, Greenville, SC
Nestled in the heart of downtown Greenville, Spill the Beans is a haven for those seeking the perfect blend of artisanal coffee and delectable ice cream. With its cozy ambiance and a menu that caters to both coffee aficionados and dessert lovers, this charming café is a must-visit destination. While they provide rich, locally roasted coffee, they also serve delicious ice cream with tons of toppings. From classic affogatos that seamlessly marry the robust flavors of coffee with the sweetness of ice cream, to inventive ice cream-based coffee drinks that offer a delightful twist, Spill the Beans is a place where flavor and comfort seamlessly intertwine. Whether you're in the mood for a midday pick-me-up or a sweet evening treat, Spill the Beans invites you to savor the harmony of two beloved indulgences in every blissful sip and spoonful.